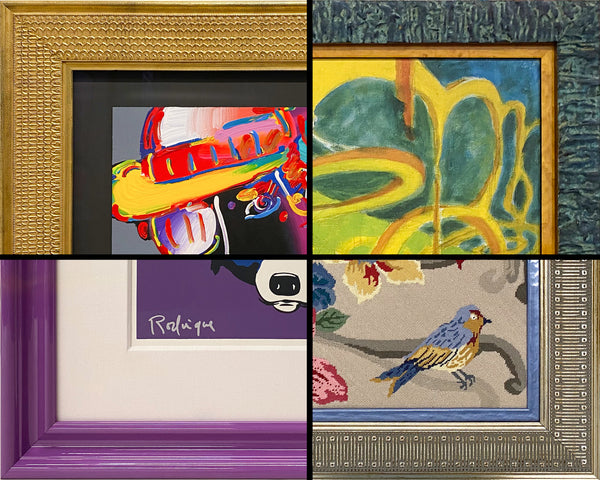 Why Custom Frame your items?
There are several compelling reasons to consider custom framing for your collectibles, memorabilia, and artwork. Here are some key benefits:
Protection: Custom framing provides superior protection for your artifacts vs. off-the-shelf frames. Dust, moisture, sunlight, and other environmental factors can damage treasured objects. Custom frames provide a barrier against these elements, helping to preserve the artifact's quality and longevity. 

Preservation: A framer is familiar with archival materials and techniques that will ensure preserving the art long-term. They employ Lignin-free mats, UV-filtering glass, and proper mounting methods to safeguard the artwork from deterioration. By investing in custom framing, you are actively protecting and preserving your valuable pieces. 

Aesthetics: Custom framing allows you to tailor the frame design to complement the item and enhance its visual appeal. You may choose from various frame styles, materials, colors, and finishes to create a cohesive and harmonious presentation. The right frame can elevate the art, accentuate its features, and make it a focal point in any space.

Personalization: With custom framing, you can add personal touches and make your memorabilia unique. You can select frames that align with your style, match your existing decor, or convey a specific theme or mood. Custom framing also allows you to choose matting options that enhance the colors and textures of the piece, creating a tailored presentation that reflects your taste and preferences.

Value Enhancement: Professionally custom-framed collectibles have higher monetary value than unframed or poorly framed pieces. Custom framing with a qualified framer demonstrates a commitment to preserving and showcasing art at its best, which can enhance its perceived value. Whether you plan to display the items in your home or sell them in the future, custom framing can contribute to their overall market appeal and desirability.

Versatility: Custom framing can accommodate assorted objects, textiles, and paper pieces. Whether you have a painting, photograph, garment, baseball, or any other item, a professional framer can create a custom frame that perfectly fits and enhances the object. Additionally, custom framing allows flexibility in adapting to different display locations or changing your decor over time.

When you opt for custom framing, you benefit from the expertise and guidance

of your design consultant.

They possess knowledge about different framing materials, techniques, and design aesthetics. They can provide recommendations and insights based on their experience, helping you make informed decisions that result in the best presentation for your artifacts.
Custom framing offers superior protection, preservation, aesthetic enhancement, personalization, value appreciation, versatility, and access to professional expertise. When you invest in custom framing, you ensure that your art receives the attention it deserves and that you can enjoy it for years.