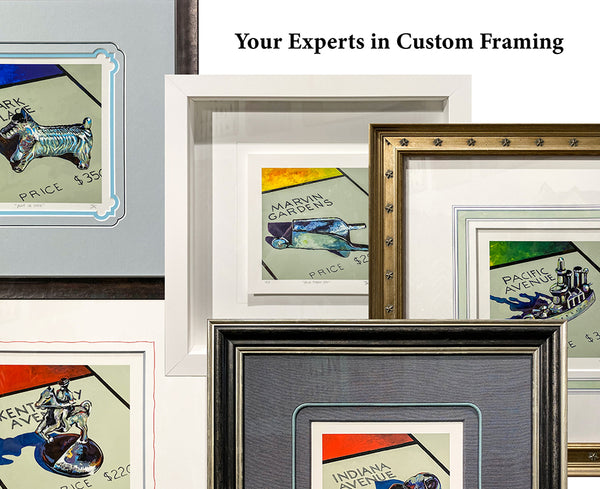 What are some different matting options?
There are multiple matting options available to enhance the presentation of your artwork. Here are some matting choices to consider:
Single Mat: A single 4ply or 8ply mat is the most basic and straightforward option. It consists of a single layer of mat board that surrounds the artwork. It provides a simple border with only the 45-degree mat bevel to create depth.

Double Mat: A double mat consists of two layers of mat board, with the top mat having a larger opening than the bottom. It creates a visible border or "reveal" between the two mats, adding more depth and dimension to the framing. A double mat can introduce a contrasting color or a subtle accent that complements the artwork. Triple, quadruple, and beyond matting create even more depth as a tunnel to the art. 

Float Mount: A float mount involves mounting the artwork on top of a mat board without covering the edges of the piece. This method creates a "floating" effect, where the item appears suspended within the frame. Artworks with unique or deckled edges that you want to showcase typically call for float mounting.

V-Groove: A v-groove on a mat adds an elegant touch by incorporating a groove cut into the mat board, typically along the inner edge. The v-groove can be rectangular or have decorative shapes or corners, creating a visually appealing line that draws attention to the artwork.

French Mat: French matting is a technique where several decorative ink lines with a hand-painted middle panel are added directly onto the mat board. One may choose a single or double mat line to subtly accent minor colors in the art. This technique adds a sophisticated and artistic touch to the framing, making it a popular choice for fine art and traditional or antique pieces.

Fabric Mat: Instead of using a traditional mat board, fabric mats offer a unique and textured alternative. Pre-covered fabric boards will have a paper core when cut or hand wrapped where the framer cuts the paper mat and applies the fabric by hand to cover the front and wrap around the mat bevel. Fabric mats made with silk, linen, or velvet create a luxurious and visually exciting option that adds richness and tactile appeal to the framing.

Customized Shape or Design: Matting doesn't have to be limited to traditional rectangular or square shapes. We can design custom mat cuts to incorporate unique shapes, letters, or patterns that complement the artwork or add a creative element to the framing.

Conservation or Acid-Free Matting: If preservation is a priority, consider using lignin-free conservation-grade mat boards. Manufacturers make these mats from alpha-cellulose or cotton rag that help protect the artwork from discoloration and deterioration over time.
When choosing matting options, consider the width of the frame moulding, the desired visual effect, the colors and tones in the artwork, and the overall style and aesthetic you want to achieve. Experimenting with different matting options can help you find the perfect combination that enhances and complements your artwork within the frame.