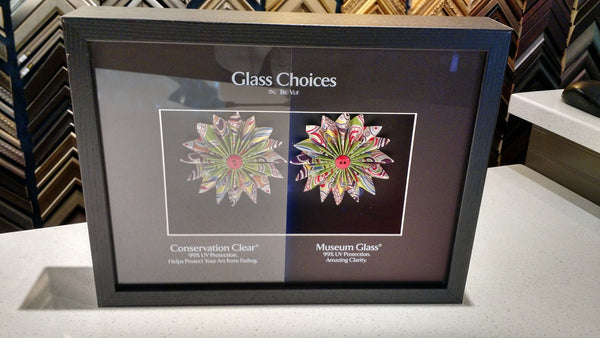 Perplexed about Plexi?
One of the most common dilemmas - and frankly the most important part of your frame job - is about glazing.  Glazing is the window to your art and a first line of defense in protecting your art. The most common choices are glass, which we are all familiar with, and acrylic, which is commonly referred to as plexiglass.
In order to choose the best option for your art, it is important to know the pros and cons of each choice.  Glass, made from sand and other raw materials, is typically less expensive and scratch resistant.  Glass works great on small picture frames, but becomes very heavy in larger sheets as well as fragile, creating dangerous shards when broken.
Plexiglass, on the other hand, is a petroleum product and tends to be more expensive but provides some worthwhile benefits. The most notable pros about plexiglass are: light weight, durability (no shattering), high optical clarity and UV resistant.