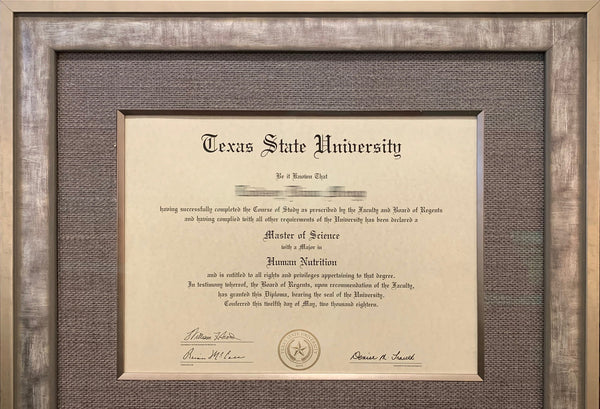 Framing Diplomas
Graduation is a milestone in life, so we want to make it last a lifetime by custom framing your diploma properly. When framing your diploma, consider these points:  
It's Worth Framing Properly

– If there's one thing worth framing properly, it's your diploma. You spent a lifetime achieving this, so it's worth more than a standard off-the-shelf, ready-made frame. Whatever it costs to properly frame it now will be worth every cent for decades to come.

Preserve It

– You only get one diploma, and you don't want to see it become damaged or faded over time. Request the use of conservation materials and glazing that will provide the best possible long-term protection from any permanent damage, such as acid or fade. 

Chose a Timeless Frame

– Your framed diploma is likely going to hang on your wall for a lifetime, so consider choosing a frame style that will be classic and timeless rather than something that may match your furniture or decor right now. Styles and trends may change, but your achievement will stay with you forever. 

Add a Distinctive Touch

– A touch of gold, such as a fillet, can formalize and distinguish your achievement. You could also incorporate decorative embellishments to personalize your frame such as additional mat accents, a V-groove, or even a gold pen line. Also, ask your design consultant to see some of our fabric matboard options, such as suede or silk, which can add a unique touch of texture and prestige. 
You've earned this. Don't just frame it—frame it to last a lifetime!